There is a lovely line from Alice In Wonderland that goes like this: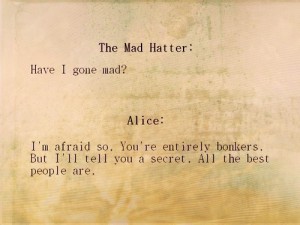 Let's take the doctors of madness, the psychiatrists, into consideration for a minute. Imagine sitting all day and researching all night on mental disorders affecting your patients. By being surrounded by mental imbalance all the time, isn't it more likely that you will also start feeling mental after a while. They say it takes a crook to catch a crook – so won't "it takes a crazy to diagnose another crazy"?
Some of the major psychiatrists that have taken the mental health world by storm have shown signs of being slightly eccentric themselves. Sigmund Freud, perhaps the first name that pops into anyone's head when they think of psychiatry, was said to have obsessive-compulsive disorder and paranoia that did not get diagnosed because he was the mind doctor himself! Read more about him HERE and how he could have developed some of his own theories based on personal experiences and mental happenings. If you read The Red Book by Carl Jung, you will see that this famous psychiatrist had what we would now call Schizophrenia but continued with his work even though he tried to banish his own demons. Read more about it HERE and be surprised!
In today's fast-paced world where each one is trying to clamber one on top of the other and trying to balance work and personal life on a fine line, it is being questioned whether majority of the people around you, including you, could be suffering from some form of psychosis whether mild or full-blown. With stress levels at the highest than they've ever been especially in young adults, it is no wonder why many psychiatrists are asking the question of whether people are suffering from some form of mental illness.
The Diagnostic and Statistical Manual of Mental Disorders (DSM), the regularly updated psychiatric encyclopedia on mental illness keeps coming up with new psychological abnormalities that could match your neighbor's regular behavior! Check out the latest edition HERE and read through to find out the newest breakthroughs in psychiatry.
The best way to understand if you or someone you know is going through a psychological upheaval is to observe if there is any cyclical change in moods. Psychiatric imbalances are always linked to the temper of an individual because this is where it first manifests. However, never self-diagnose or point fingers with nicknames and accusations as people are still hiding in the closet, afraid to say that they are suffering from a mental imbalance because of the societal stigma it brings. If you suspect anything, the first thing to do is be open and friendly about it and immediately follow up with an expert.
Liked the article Aren't We All Mad? Have your own theories that you would like to share? Comment below and don't forget to SHARE THIS ARTICLE!
Image Source: sourceforge.net